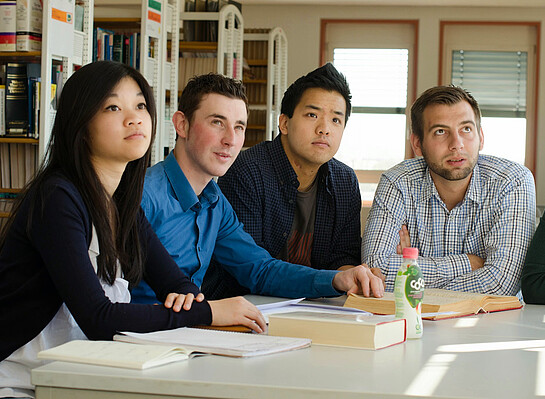 On the basis of a comprehensive education in business administration, the goal of the program is to provide students with the special technical and methodological skills for employment with or within the East Asian economic area. These skills are required of professionals working in this area in order to solve demanding and complex specialist and managerial tasks in the relevant lines of work. Accordingly, prerequisites must be completed, which are also necessary for the successful performance of positions of responsibility in industry and administration outside of the East Asian economic context.
This eight semester, full-time course of studies concludes with the degree title "Bachelor of Science, which is awarded to graduates majoring in China and Japan by the Ludwigshafen University of Business and Society. The program can only be begun during the winter semester of each school year. The fifth and sixth semesters are completed at universities in the People's Republic of China or in Japan.
Students should be well prepared for the broadest possible deployment within the world market—specifically for East Asia, given the Institute's orientation. This appears especially important given the long historical tradition of countries in East Asia, their economic significance in the world economy, and the increasing interconnectedness of the world.
Course of Studies
The first phase of the program serves primarily to provide a foundation, which forms the basis for success in later studies. The best graduates from the first phase of the program can apply to receive a scholarship from the Haniel Foundation to support their studies abroad.
Consolidation and advanced studies are the purpose of the second program phase, which also includes a yearlong stay broad in China or Japan.
The third phase of the program deals with the transfer of knowledge. Here, students demonstrate that they have mastered program content, are in the position to implement their knowledge, and are independently capable of finding innovative solutions to problems.
Career Outlook
We would like to educate socially adept, cosmopolitan, and highly qualified businessmen and business women who are particularly skilled in China and Japan (including language competency), but who can work worldwide.
International Orientation
The Ostasieninstitut cooperates with universities in China, Japan and Korea. After the fourth semester, all students in this program must complete one-year intensive language training at one of these universities before they can finish their studies during the seventh and eighth semesters in Ludwigshafen.