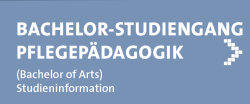 The Bachelor's degree program in Nursing Education has been fully accredited with the official seal of the Accreditation Council.
Program Aim
The program enables general educational professional activity in the nursing field. Specific areas of work include mainly:
Planning, teaching, and evaluating educational instruction at adult and pediatric nursing schools, health care schools, midwifery schools, and officially recognized geriatric care schools, as well as at institutions of further and continuing education.
Leading adult educational classes.
Diagnosing (evaluating, checking) und assisting.
Constructing, implementing, and evaluating curricula.
Organizing not only the academic but also the practical components of educational training programs (as a special feature of these educational professions).
Connecting theory and practice in the form of supervising trainees during the practical components of their education and advising instructors.
Program Organization and Structure
This seven-semester, full-time program is modularly structured and contains 18 modules (see either the Module Handbook from 19.12.12 and/or the Module Handbook from 20.07.09, the latter of which applies for students who began their studies up to and including Summer Semester 2010). Most modules extend over the course of two semesters. Each module concludes with a final module exam.
A six-week orientation internship is planned at the beginning of the third semester. Among other things, students prepare a research project during the fourth semester, which is then completed during the fifth semester. In the fifth semester, students do an integrated, 16-week practical semester. During the seventh semester, students write their Bachelor's theses.
Degree
After the successful completion of the program, graduates are awarded the academic title of "Bachelor of Arts (B.A.)."