Freezing Week 7 - 11 February, 2022: Sustainable Business Transformation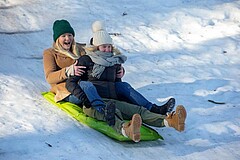 Dear International Partners and Colleagues,
we are happy to invite you to join the 8th Freezing Week, 7 -11 February 2022. We will build the international week around the theme Sustainable Business Transformation. This year, we will offer a hybrid event, so you will be able to join us here at Hämeenlinna University Center as well as online!
You will be able to share your expertise with students and other teachers, so there will be networking, multidisplinary student project, seminars and social events.
The program and social events are free for visiting lecturers from our partner universities. You will need to cover flights, hotels and other travelling expenses yourself. This teaching mobility can be financed by ERASMUS+ through your institution's International Office, if there is an Erasmus+ agreement between HAMK and your university.
You have the possibility to give a lecture (30-60 minutes) and take part in multidiscplinary student project as a facilitator.
We would like to have proposals for presentations related to our theme and the title of the lecture by 17 December.
Online registration is now open HERE, application deadline is 9 January 2022.
Research Seminar Call for Papers until 10 December
The School of Entrepreneurship and Business welcomes you all!
Best regards on behalf of the HAMK's Freezing Week team
Ulla Bard (Dean | School of Entrepreneurship and Business) and Riikka Kekäläinen-Alkio (Executive Assistant | School of Entrepreneurship and Business)