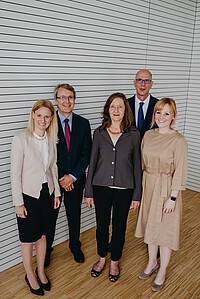 Dear first-time and newly enrolled students,

welcome to our university community!

On this page you will find the most important information for the start of your studies. For this purpose, we provide you with "general information" that applies uniformly to all first-time and newly enrolled students. For additional offers of your degree program, please refer to the section "Orientation events of the degree programs during the introductory week" under the respective link to your degree program.

We look forward to welcoming you personally to the university soon.
We wish you an eventful and exciting time with us at the Ludwigshafen University of Business and Society.

Best regards

the university management team
The central welcome and information of our first-year students will take place on 18.09.2023 as an attendance event in the assembly hall (A-Building, Ernst-Boehe-Str. 4 in LU).
Further information on the schedule and program will be continuously posted on the corresponding event page event page.
The further course of the introduction week is organized by the degree programs. The program can be found on the website of YOUR degree programs. Participation is strongly recommended!
MBA students do not have to participate in the introduction week. You will be informed in detail by the contact person responsible for your degree programs, usually in writing or in person .
Orientation events introductory week winter semester 2023/2024 according to study programs
For detailed information on the further course of the introductory week, please refer to the respective freshman info page of your degree programs:
Preliminary course - mathematics
The voluntary and free mathematics pre-course takes place every semester before the introductory week. It is designed to prepare first-year students from the departments of "Management, Controlling, HealthCare", "Marketing and Human Resource Management", and "Services and Consulting" for the modules in mathematics.
The course materials and further information can be found on the page "Pre-course Mathematics".
The StudiCard is a student ID, canteen card, library card and locker key, copy card, payment card and washing machine chip.
Detailed information, e.g. on photo upload and issuance of the StudiCard can be found HERE.
Student account, password etc.
During the introductory week, the IT Service Center will provide you with basic information on how to use the systems of the Ludwigshafen University of Applied Sciences. The most important information has been compiled on the page "IT Service for Freshmen".
As a student of the Ludwigshafen University of Applied Sciences, you can easily purchase the semester ticket for the entire VRN area (except West Palatinate) as an online ticket. The prerequisite is that you are enrolled at the time of ticket purchase. Please continue reading HERE.
Overview of the HWG LU locations