Social Work (Bachelor of Arts)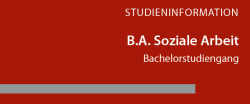 The Bachelor's degree program in Social Work has been fully accredited with the official seal of the Accreditation Council.
Additional information about the program is available for download at right.
Program Aim
Students are trained for employment in all fields of social work at public, private, and independent institutions. They learn the technical, methodological, and analytical problem-solving skills that will enable them to plan, implement, organize, and evaluate in social work practices.
The Bachelor's degree program is designed as a seven-semester, full-time course of study, which includes examination periods and the Bachelor's thesis. The program is modularly structured and contains 15 modules. Most modules extend over the course of two semesters. Each module concludes with a final module exam.
The fifth semester includes a 20-week internship as an integrated internship semester. In general, this is done full-time at an institution of social work. As a central part of the sixth and seventh semesters, students reflect on the experiences and skills they acquired during their internship semester. Another important aspect of the sixth and seventh semesters is writing the Bachelor's thesis. This capstone project allows students to formulate a defined research topic within the field of social work in compliance with academic standards.
Degree
After the successful completion of the program, graduates are awarded the academic title of "Bachelor of Arts (B.A.)."