News from the International Office
On 27 October 2022, everything will revolve around the topic of "Successful Immigration and…
Register now for the AEI-ASEM Summer School 2022 (online) on the topic of "Civic Engagement and…
Join the International Relations Office of the University of Maribor as an intern!
Did you know that there are also grants for students of universites of applied sciences to study in…
Prioritising refugees from Ukraine, LUBS is offering German courses and orientation semesters.
On Monday, the German course for our exchange students ended with an international picnic.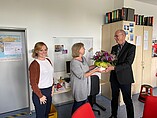 As of 1 June, Darijo Zivkovic will take over "Outgoing Mobility" from our long-time colleague Ilse…
The choice was difficult, but our international jury has chosen the winners of the EuroInnA Photo…
Two days of insightful lectures, sports programme, and networking lie behind as and we would like to…