Social Innovation Lab // SoIL Ludwigshafen
The Social Innovation Lab works systematically across the university on challenges that are relevant from a scientific and social perspective. The heart of the Lab is the Creative Space in Ludwigshafen's city center, which was opened in the summer semester of 2020. Here, university lecturers work with cooperation partners on issues for which students and lecturers creatively develop solution ideas in several modules. In doing so, they actively involve citizens by inviting them to the Creative Space for discussions or by conducting surveys and interviews "on the street". The results are presented to the cooperation partners and other interested parties in Innovation Talks and presented to the public at a tour at the end of the respective semester.
The funding
The Social Innovation Lab has been funded by the Stifterverband and the Dieter Schwarz Stiftung within the Innovation Hubs@Campus funding line from mid-2019 - early 2022. The university participates in the Innovation Club, an expert group with 14 other universities to promote innovation at universities.
A visit to the Social Innovation Lab (Video: Stifterverband)
A souvenir is a memento of a trip or a city one has visited. In many places, a commercial range of…
We are resuming the "Skillsharing in SoIL" format for the fall and winter, this time with three…
In video games, all female characters are princesses in distress and male characters have to be…
In August we are on site and ready for a game of PingPong and conversations. It's all about THE…
The summer semester is coming to an end, but the SoIL program continues. In July, we start with our…
February 18 at 12:30 pm. How could pandemic-related changes in open youth work and counseling be…
Practical project with the project "Verbraucher stärken im Quartier" in Ludwigshafen-Oggersheim-West…
Development of concrete tasks from the field of "Ambient Assisted Living" and "Smart Home" with a…
If it weren't for the word "if"... we would be opening our doors for a tour these days and providing…
What are social innovations?
Social innovations are new solutions (products, services, models, markets, precesses, etc.) that, simultaneously, satisfy a social need, create new or better capabilities and relationships, and make better use of assets and resources. In other words, social innovations are good for society and improve society's capacity to act. (The Young Foundation, 2012, p. 18. )
Social innovations are intended to provide answers to social challenges, meet society's needs, and at the same time make better use of resources. The issues are many: how can people be comfortably mobile without polluting the environment (car sharing, e-bikes)? How can people experience nature and garden in the city (urban gardening, green roofs)? There are no limits to the questions that can be asked; the way of thinking is "reversed" compared to, for example, technical innovations. The aim is not to sell innovations that have already been developed. Rather, products, services or processes are developed that people and society really need.
Room booking Social Innovation Lab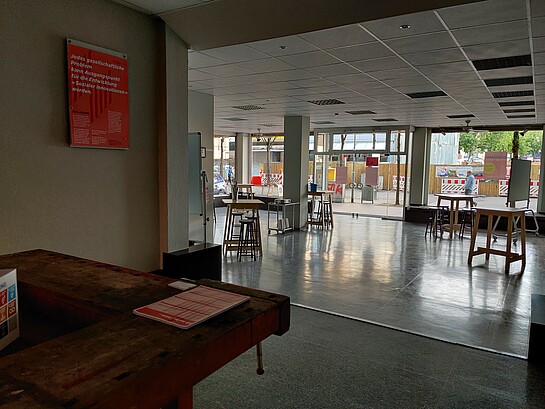 The Creative Space of the Social Innovation Lab is a spacious seminar room of HWG, located in the middle of Ludwigshafen's pedestrian zone. Due to its location and nature, the room is particularly well suited for high-profile events as well as seminars or workshops in which passers-by are to be involved, e.g. for surveys. Material for the use of creative methods is available (fine-tuning possible). Thanks to its flexible equipment (high and low tables, rollable whiteboards and projector, workbench, walk-in display windows, etc.), the room can be used very variably. The kitchen adjoining the room can be shared in self-management.
Reservation and room allocation
A reservation request is possible by e-mail to socialinnovation@ 8< SPAM protection, please remove >8 hwg-lu.de. Semester planning takes place on two key dates in the year (July 15 and January 15), after which you can submit further requests for dates. The following priorities apply when scheduling appointments:
HWG professors*, faculty, or adjunct faculty who teach events related to social innovation,
Professors, teachers or lecturers of the HWG who need a seminar room for creative methods or similar for their course without reference to social innovations,
professors, lecturers or employees of HWG who require a creative space for university events or for meetings of initiatives, in which the university is involved, .
Other events may be considered on a case-by-case basis.