Prof. Dr. Edith Rüger-Muck
Vice President for International Affairs and Diversity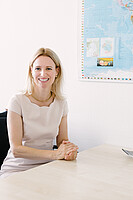 Professor for Business Administration, esp. Marketing
E1043 (Ernst-Boehe-Straße 15)
+49 (0) 621/5203-322
+49 (0) 621/5203-162
edith.rueger-muck@ 8< SPAM protection, please remove >8 hwg-lu.de
Edith Rüger-Muck has been Vice President for International Affairs and Diversity at Ludwigshafen University of Business and Society since February 2019. She studied business administration at Mannheim University. Afterwards, she worked as a research assistant at WHU Otto Beisheim School of Management, Vallendar. At the same time, she took her chance for research studies abroad at the University of Gothenburg and at the University of Michigan. The topic of her doctoral thesis, at which she was working at that time, on applications of hazard-regression models for the prevention of customer churn was received with great interest at Microsoft in Redmond, WA, where she was offered the opportunity to work as a marketing research assistant. In 2003 she earned her PhD. Back in Germany, she started working for Europcar in Hamburg on different positions as head of the marketing department and authorized signatory. She was also member of the international management circle of Europcar Holding International in Paris. She led and accompanied different marketing and pricing projects in Paris, Barcelona, Madrid and London. In 2011 she was appointed professor for marketing, focus viniculture and enology, at Ludwigshafen University. In the beginning, she worked at the wine-campus Neustadt, before she became head of the Master's study program International Marketing Management in 2015.
One of her core values is internationality. That is why her research and teaching have an international and intercultural focus.
Edith Rüger-Muck is married and has two children.
Further informationen can be found here
Back to Senior University Leadership