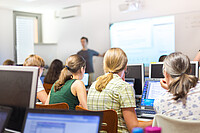 Dear students,
The university wants to make the start of the semester as pleasant as possible for you. We have put together some video tutorials and a presentation on the topics relevant to you.
>>PDF-Introduction into the IT Landscape<<
The videos are in German with English subtitles
Welcome to the Ludwigshafen University of Business and SocietyIntroduction into the IT Landscape
Account management
With your account you have access to the pages / services that are relevant to you
PC pools
WLAN at the University
VPN
Mail
OpenOLAT (via Shibboleth)
University portal
Your username / login name is a combination of LU + any two letters + any three digits (for example LUAA000). You can see this in the university portal. The initial password is: Your date of birth with the first letter of your first name and the first letter of your last name, both capitalized (dd.mm.yyyyVN, e.g. 12.05.1981MM).
Please note that the account is linked to your study time. This will be deactivated upon completion of the course or early de-registration. Therefore, you should save your documents and data externally before expiry.
E-learning
OpenOLAT is an internet-based learning platform for teaching and learning. Here you can join various lecturer courses, view dates, receive shared documents or discuss with other course participants in forums.
An introduction to the basic functions of OpenOLAT. You can find the link to register here.
University portal
The university portal offers a lot of information on the topics mentioned below.
1. Student and application portal
Update of contact details: semester address, telephone number and e-mail address
Overview of account billing
Enrollment or study certificates (e.g. for BAföG)
2. Event and examination portal
Timetables
Room plans
Registration for exams
Overview of registered exams
Overview of personal grades
VPN - Virtual Private Network
VPN - Virtual Private Network
You can access the university network from outside via VPN. This is necessary, for example, to be able to access your university drive or the library database from outside the Campus. As long as you are connected to VPN, the rules of the university network apply accordingly.
The video tutorial for setting up a VPN connection to the university in Windows.